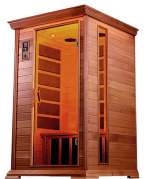 Sunlight Armana 1 Sauna
The Armana 1 far infrared sauna is part of Sunlights flagship line of saunas. It is constructed of Veneer-Free, Grade "A" Clear Canadian Cedar, or can be upgrade to 100% Hypoallergenic Basswood. The longer than normal windows and entire door are constructed completely of tempered glass. Recessed lights run the entire length of the sauna, delivering a soft, ambient lighting. Floor heaters help to ensure each part of the body receives optimal detoxification treatment.
Sunlight Armana 1 Sauna Features
Canadian cedar wood and trim or optional upgrade to hypoallergenic Basswood.
Quality materials, workmanship and finishing
Innovative technology of Solocarbon® heating panels produces longer Far infrared wavelengths at lower temperatures than traditional saunas
Largest solocarbon heaters available on the market
Soft ambient lighting throughout the sauna
Bench seating
Lifetime warranty on cabinetry, electrical, and heaters
Just plug into a normal 110v wall receptacle; no electrical or plumbing required
Portable; disassembles as easily as it assembles. Take it with you if you move
Warms up in 10 minutes
Much lower operating temperature than traditional Finnish saunas
Large tempered glass windows and door
Very low operating cost; uses the same amount of energy as your toaster.
Sunlight Armana 1 Sauna Specifications
| | |
| --- | --- |
| Exterior Width | 44.75 in |
| Exterior Depth | 41.5 in |
| Exterior Height | 75.75 in |
| Weight | 251 lbs |
| Heaters | 5 |
| Heater Surface Area: | 3120 sq in |
| Interior Width | 37.8 in |
| Interior Depth | 31.5 in |
| Interior Height | 68.5 in |
| Bench | 37 in. x 17 in. |
| Wood Material: | Canadian Cedar or Basswood |
| Warranty: | Lifetime on cabinetry, electrical, and heaters |
Cindos' Finnish & Far Infrared Saunas