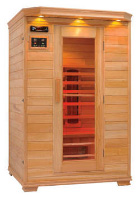 Saunagen Pro-Health II
The Saunagen Pro-Health II is the two person version in the Pro-Health sauna line-up. Designed to comfortably fit two people, it is ideal for couples or those who enjoy sharing their sauna bathing time with a friend or family. The Saunagen Pro-Health II is constructed of solid Hemlock-Fir and comes with a cd player, radio, and interior lighting.
Saunagen Pro-Health II Features
Low up front purchase cost compared to competitors products
Most value for your dollar
High Quality materials, workmanship and finishing
Much lower operating temperature than traditional Finnish saunas
Tempered glass window
Interior lighting
Bench seating
Five year warranty
Just plug into a normal 110v wall receptacle; no electrical or plumbing required
High quality ceramic far infrared heaters
Solid wood construction; not the veneer on particle board that you'll find in some competitors products
Interior and exterior digital control panels
Comes ready-to-assemble; pre-constructed sides, base and top just snap together; assembly takes approximately 20 minutes
Portable; disassembles as easily as it assembles. Take it with you if you move
Warms up in 10 minutes
Very low operating cost; uses the same amount of energy as your toaster.
Saunagen Pro-Health II Specifications
Outside Dimensions:
47"W x 41"D x 76"H
Inside Dimensions:
44"W x 36"D x 68.5"H
Capacity:
2 Person
Seating Type:
Bench
Wood Material / Color:
Hemlock Fir / Birch
Heaters / Count:
Ceramic Infrared / 5
Door with Window:
Yes
Operating Temperature:
110°F - 125°F
Power Usage / AMPS:
110V / 15 AMPS
Internal Lighting:
Yes
External Digital Control:
Yes
Internal Digital Control:
Yes
CD Music Player w/ Speakers:
Yes - CD Player with Radio
Warranty:
5-Year Limited Warranty on Digital Control Panel
5-Year Limited Warranty on Infrared Heaters
5-Year Limited Warranty on Circuit Board
5-Year Limited Warranty on Wood
1-Year Limited Warranty on CD Player
Cindos' Finnish & Far Infrared Saunas